Hello my friends,
When my dear friend Jessicca from

http://jessicascraftshaque.blogspot.com/2011/12/handmade-stocking-bags.html invited me to participate in her First Blogaversary Blog Hop, I immediately say yes, yes yes! She is so creative and fun. I love to be part of her celebration and feel blessed to have her as my friend.
She is so creative that she invented the work Blends = Blog + Friends! (told you!!!).
There will be some fun prizes up for grabs along the HOP ! ! !
"I am honored to have Stephanie of Whimsical Designs as our Grand Prize Sponsor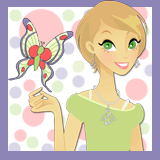 One Random Hopper will be selected to win the entire New Release of Whimsical Designs Stamps.

This is a fabulous stamp set with wonderful and unique images and sentiments. You aresure to find a sentiment to fit every occasion!!!!

I am also honored to have Julie K of A Little Bit of Bling and 3 Girl JAM as an additional Prize Sponsor

One Random Hopper will be selected to win the entire Valentine's Day Bundle.
This ribbon is so fun to use in projects, the colors are vibrant, and the prices are OUTSTANDING
* * * * * * * * * *

I am offering not 1, not 2, but... 3 Unity Stamp Goody Bags to 3 lucky Hoppers!!!

Each bag is filled with 16 random Unity Stamps. I had so much fun stamping the goody bags,
with Unity Stamps of course, and
getting them prepped to go to their new homes!!!

I am also offering 2 Lucky Hoppers1 set (5 per set) of my Handmade Corsage Pins for you to
use in your own creations



For a final prize to a lovely Hopper I will offer one $10 Gift Certificate to be used at Pink By Design


? ? ? How about THOSE PRIZES ? ? ?
And, there is SURE to be more
awesome CANDY along the way!!!
Now, lets move onto my project...
First let me tell you that I was inspired by Jessica's handmade gift wrap post, this one:
http://jessicascraftshaque.blogspot.com/2011/12/handmade-stocking-bags.html
And here is the picture of it:
I have many stamp sets that I barely use them all. So, I thought that I could use some of them using this "random stamping technique" following Jessica's sample! And... this is my creation:
At the begining my intentions were to stamp directly in the blue cardstock base in a tone in tone
technique, but then I realized that I could use my cricut Art Philosophy cartridge to cut this s
nowflakes. So, I cut them and then stamp them on white cardstock.
Next I random place them in my base cardstock and accomodate the pictures until I found the
right arrangement.
I added some buttons and add a "rip off" at the right top corner and added a ribbon knott.
There you go, an easy, fast and pretty layout!
Hope you like my project and please complete the blog hop to be enter into the prizes drawings... And let's continue hoppin...



Here is the WONDERFULLY TALENTED Lineup:

1 . Jessica - Jessica's Craft Shaque http://jessicascraftshaque.blogspot.com BLOG HOP BEGINS HERE!!!
2. Candace - Scrappin' 2 Lil Princesses http://scrappin2littleprincesses.blogspot.com/
3. Luisa - Creative Designs by Luisa http://www.creativedesignsbyluisa.com/

YOU ARE HERE!!!


4. Cindy - Tools of a Cropping Queen http://toolsofacropingqueen.blogspot.com/ YOUR NEXT STOP!!!
5. Lisa - A Mermaid's Crafts http://indymermaid.blogspot.com/
6. Beckie - Just B Creative Crazy http://justbcreativecrazy.blogspot.c
om/
7. Julie - A Little Bit of Bling / 3 Girl JAM http://
jk-littlebitofbling.blogspot.co
m/
8. Carri - Double Click Connections http://doubleclickconnections.blogspot.com/
9. Sonia - Cards, Crafts, and Kids Projects http://cardsandschoolprojects.blogspot.com/
10. Cindy - cre8ivecindy http://cre8ivecindy.blogspot.com/
11. Robin - The Cricut Scrapper http://thecricutscrapper.blogspot.com/
12. Nataliya - Love Crafts Forever http://lovecraftsforever.blogspot.com/
13. Stephanie - Whimsical Designs http://www.whimsical-designs.com/

Now, for the Rules (pretty simple)

1. Hop along to each of the Hop Stops

2. Leave a comment and become a follower at EACH stop, if you aren't already

3. Stop back JESSICA'S BLOG
and let she know what you thought about the entire Hop
and
which Project was your favorite!!!


4. For an extra entry into the drawing for any of the prizes here, join in on the fun!!
Create a project by using one of Jessica's past creations as inspiration. Post about it on your blog, explaining which project inspired you, and leave her another comment with the link to your project!
You will have until January 25th at Noon (EST) to finish the Hop and Link Your Projects.

5. For another chance to get some extra entries into the drawing for any of the prizes Jessica is offering:
,
SPREAD THE NEWS!!!
Just stop back to let her know how you did it...sidebar, blog post, FB share, etc.....(1 extra entry for each time you spread the news)

* * * * *ONLY THOSE FOLLOWING THE RULES WILL BE INCLUDED IN THE RANDOM DRAWINGS FOR THE PRIZES * * * * *

The winners will be chosen by Random and announced after all the comments are gathered and consulted with all of Jessica's Blends!!!
Enjoy Life and Be Happy... and scrapbook about it!!!
Creative Diva Luisa
Close to my Heart Independent Consultant
CTMH Autumn/Winter IDEA BOOK